Ordinary Seaman Stanley Bowman
Family
Stanley Bowman was born on 12 September 1920 in Burney Bit, Pamber Heath, probably at St Hilda's (number 19, the eastern end of the road). This comprised a large plot which was later subdivided and on it, in 1957, the village Police house was built. Shortly after Stanley was born the family moved to the western end of Burney Bit. At the time of Stanley's death his parents' address was given as Linden-Lea, Tadley Hill.
His parents were Ernest William and Alice Rosa Bowman (née Monger). Ernest was a 'Carpenter Journeyman'. This meant that he had served an apprenticeship but not set himself up as a master carpenter.
They had three sons of whom Stanley was the second. Ernest Reginald (Reg), Stanley and Charles Roy. Both of his brothers were known by their second names. 
Stanley's father was born in Windmill Road, Mortimer and his mother in Pamber Heath. There is no record of his father or grandparents in the three local census for 1911 which leads us to think his father may have remained in Mortimer until his marriage in July 1914.
Stanley's occupation on enlistment was that of 'Musical Instrument Repairer'. We know that he was a first class musician from a very early age. As a teenager he played in the highly successful Tadley Silver Band.
His obituary in the local newspaper records that, 'he was a popular and efficient member of the Tadley Silver Band and had always shown himself as a first class and conscientious musician, never missing a rehearsal or performance and always displaying a keenness which was an inspiration to his colleagues'. It would appear to be this background that led to his unusual trade.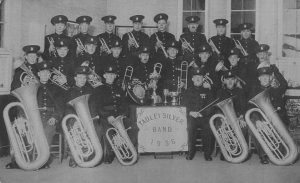 Tadley Silver Band in 1936 with Stanley in the middle row, second from the left
Stanley was unmarried.
Service record
Stanley enlisted in August 1940, aged 19. At the time of his enlistment he was recorded as being 5 feet 9½ inches tall with brown hair and grey eyes.
He served as an ordinary seaman in the Royal Navy (service number P/JX215542).
His first recorded period of service was at HMS Collingwood (29 August 1940 – 6 November 1940). Following this he served at HMS Victory (7 November 1940 – 21 March 1941). Both were Royal Navy 'stone frigates' – naval shore establishments.
On 4 April 1941 Stanley commenced service on ML (Motor Launch) 144 with the Channel Patrol Service.
Motor Launch 187, similar to ML 144, the vessel Stanley was serving on when he died.
Motor Launches were small military vessels, with a compliment of 16 men, designed for harbour defence and submarine chasing or for armed high speed air-sea rescue. ML 144 was built by the Dorset Yacht Co Ltd, Hamworthy, Dorset; it was ordered on 8 January 1940, and commissioned on 11 December 1940.
Stanley was serving on ML 144 when it struck a mine and sank in the English Channel on 22 September 1941.
Died
Stanley died at sea on Monday 22 September 1941, aged 21. His naval records show that his body was recovered on 6 October 1941 and buried at sea.
Commemorated
He is commemorated on the Portsmouth Naval Memorial (Panel 50, Column 1), Southsea Common.
He is remembered on Tadley War Memorial.
Decorations
Stanley was awarded three medals: the 1939-45 Star, the Atlantic Star and the War Medal 1939-45. These would have been sent to his family.