A quick sample of Tadley memories…
---
Tadley memories by Elsie Simpson (nee West)
In the beginning…
I was born in 1918 at 32 West Street, which is still my home. My earliest memory is of my Grandmother, Mrs Elizabeth Monger of Burney Bit, Pamber Heath just before she died. She had been to Basingstoke market with her pony cart, as a carrier. This was a weekly event. Much to my surprise she had brought me a doll, a wonderful gift in those days. I well recall her funeral, my Grandmother being pulled on a bier to Tadley Old Meeting with the mourners walking behind in pairs, no hearse in those days, and not many cars.
What is now called The Treacle Mine pub was our nearest shop run by Mr Lowe. I remember being taken there by my sister sometimes, to have a pennyworth of sweets. These would be put in a piece of paper, which Mr Lowe would shape like an ice cream cone. In retirement he sold the shop, which became a private house. Then Mr Lowe's son bought the shop at Mulford's Hill, which was later sold to Whatmores and then to Budgens. Like his father he sold almost everything in the shop.
Work
Most men worked on the land, coppicing or broom making. The wages were small, but people grew most of their own vegetables, in their gardens, or on allotments – no allotments were down to grass in those days.
Stripping willow rods was another industry in Tadley. They were not grown here, but at Woolhampton by the Bath Road. My uncle rented rod beds there. These were cut in the winter, put in water and stripped in the spring, by a gadget known as a brake (steel bands attached to a piece of wood); some retained their skins so were known as brown rods, the stripped ones as white rods. Rod stripping was an annual event. A lot of women went to Brown's Rod Yard at Heath End where the stripping was done. They were paid 3d (1.5p) for a 'bolt' of rods. Hard work! The area around what is now known as the Rowan Road Estate was always known to us as the Withey Beds, although I can never recall rods being grown there. The demand for English rods died out, as they could be bought cheaper from abroad (Belgium).
Play
Money was scarce so we certainly did not have the toys we would have liked. We made our own, such as a cricket set – three sticks and a piece of board for a bat. Yes we did have a ball! Another toy was Slippery Cap, a stick, split down about six inches from the top with one half of the split length cut away. This half was the cap. The stick was set in the ground, the cap replaced loosely and the stick was then hit with another stick to knock the cap off. The winner was the one who hit it farthest. Hoops, marbles, skipping ropes, and spinning tops, all had their season. Many a day I have run with a hoop down Tadley Hill from school.
We always had, as many people did, a pig reared at home every year to kill for Christmas. We children were well taught in dissection, watching Mr Nash cut the pig up. The liver, and something not heard of today – the crow – made a lovely meal.
Christmas was the time we liked best, to go carol singing round the houses, often to be told, 'Come a little nearer Christmas'. No electric torches for us in those days, we had half a candle in a jam jar, secured in the jar by half of a 'tater'. No one called them potatoes in those days. With a piece of string round the top for a handle we had a lantern. We had no fear in those days of walking the roads, after all we knew all of the children and the grown-ups we met. We were often told, 'Time you children should be getting home'.
I well remember May Day at Tadley School. We all took part in the dances, often performed on the rectory lawn at St Saviours, and included the crowning of the May Queen. For our efforts we were rewarded by a tea party at Christmas.
Hop Picking

We used to break up from school at the end of August. The reason, nearly everybody in Tadley and the surrounding villages went hop picking. There were several farms in the Bentley area near Alton. I went to Coldrey, which was in a beautiful setting. We children thought of going there as our holiday.
Hop picking, Coldrey Farm nr Bentley, circa 1928
The mission men used to come from London for the hop picking season with scripture texts and first aid. Best of all were the 'magic lantern shows'. Of course these were out of doors, so they would fix a white sheet up anywhere they could tie it. At Coldrey it was to the branches of an oak tree. To this day it is known to us as the 'magic lantern tree'. A friend and myself recently had our photograph taken under this tree.
Mr Lowe from Tadley used to come to these hop farms with a van full of groceries once or twice a week. Mr Kelsey, a Tadley man, was not a very good hop picker so he was the baker, buying the bread from the bakery to sell to us. We were well catered for with a fish & chips man calling several nights a week.
At the end of hop picking, on being paid, every member of the family was given a large oval fruit bun known as the 'Hopping Bun'. Those were happy days.
Teenage years
My aunt and uncle Mr and Mrs L Ford kept a small-holding in West Street – Brookhurst Farm. It is now a private house. I went there during my teenage years to work making butter, feeding the chickens and separating the milk. I will always remember the big oven, heated by burning wood in it. After the ashes were raked out and the oven wiped clean with a damp cloth, it was then ready for baking. As well as baking her own meat, cakes and pies my aunt would also bake for her neighbours.
My uncle was also a rod grower and I helped with the rod stripp­ing, but the work I liked best was cutting up the hay in the chaff cutter and the mangolds in the mangold cutter. These came out like chips and were mixed with the chaff for the cow's evening meal.
My childhood over, I remember Mr Miller the Headmaster of Tadley School saying to us who were leaving school, 'There is a big wide world out there, go and see what you can make of it'. Little did we know that in a few years the boys would be fighting a war, we girls doing war work, and Tadley would be becoming a completely different village from that we had grown up in.
_______________________________________
The passenger with Cody
William Henry Brereton Evans (29 January 1883 – 7 August 1913)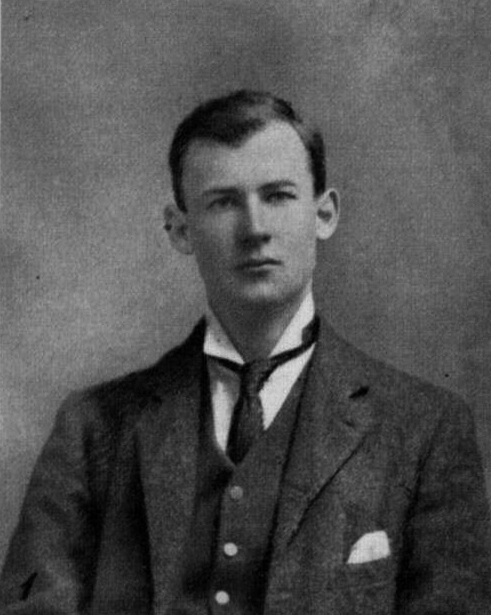 William Brereton Evans
Samuel Franklin Cody (6 March 1867 – 7 August 1913) was an American Wild West showman and early pioneer of manned flight. Amongst his claims to fame Cody was the first man to fly an aeroplane in Britain, on 16 October 1908. Cody died while testing his latest aircraft, the Cody Floatplane, on 7 August 1913. He was buried with full Military Honours in the Aldershot Military Cemetery, with an estimated crowd of 100,000 people attending. Cody's fellow passenger on that final flight, William Evans, also died and is buried in St Peter's Graveyard, Tadley.
The wreckage of Cody Aircraft Mark VIA at Laffan's Plain near Aldershot. The aircraft broke up in mid air and crashed, killing S F Cody and his passenger, W H B Evans instantly. Photograph: Imperial War Museum.
The report in Wisden of William's death at the age of 30 described it as 'a painful shock, (he) was one of the best all-round amateur cricketers of his day'. The obituary, which is lengthy, goes on to extol his virtues on the field of cricket at Malvern College (1896 – 1901) and later at Oriel College, Oxford (1901 – 1905), where he won his Blue as a Freshman. He also played county cricket for Gloucestershire and Hampshire. On leaving Oxford William entered the Egyptian Civil Service and so his chances of playing first-class cricket diminished. Had he continued to do so it was considered 'likely that he would have had the distinction of playing for England'. An all-round sportsman, William also played football for Malvern and Oxford and won the Public School Racquet Championship in 1900. His cricketing achievements are recorded alongside those of his uncle Alfred Henry Evans, his brothers Dudley and Alfred (later to become Vice Admiral Sir Alfred Englefield Evans KBE), and his cousins John and Ralph Evans, all of whom also played for Hampshire.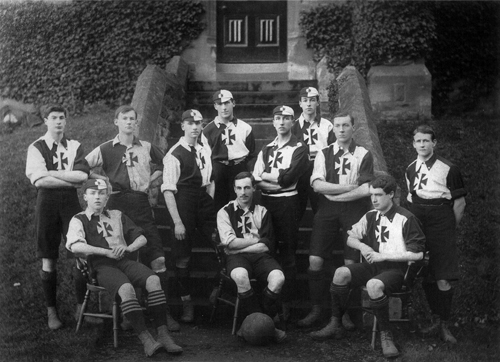 Malvern College football team 1900. William, back row second left, had a great career at Malvern College, finishing in his final year as Senior Chapel Prefect (Head Boy). A window in the College Chapel was dedicated to his memory following his death in 1913. Photograph: Malvern College.
William was born in South Africa, the eldest son of five children, into a family with a history in the colonial service in India and South Africa. His grandfather, William, was Deputy Surgeon General and Inspector General of hospitals in India in the mid 1800s and at a later date, we believe, a practising doctor in Tadley, Hampshire. It was at this time that he and his wife Emma moved into Fairlawn House,Tadley. William, probably known as 'Harry', had been home on leave from Sudan since June visiting his sister Dora and his Aunt, both of whom were living at Fairlawn House.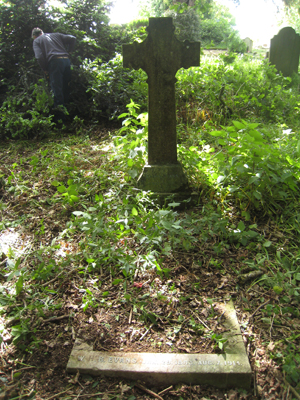 William's grave in graveyard at St Peter's Church, Tadley
The extensive report in The Hants and Berks Gazette of his funeral on 13 August, at St Peter's Church, Tadley, gives us a clear picture that the occasion was attended by a large number; many perhaps drawn there by curiosity, excited by the tragic event that led to his death. His body was cremated which was an unusual decision for the time, but possibly one made due to the condition of his body on impact with the ground. The casket with his ashes was placed in a grave next to that of his grandmother, Emma who had died in 1911. Revd L.P. Phelps, from William's alma mater, Oriel College, was invited to say the committal prayers. Many prominent local residents attended the funeral as the family were well known in the area; his sister Marjorie was married to Gerald Strange of Strange's Brewery, Aldermaston (Beenham). Leon Cody, the son of Samuel Franklin Cody, was also amongst the mourners. Leon had generously given up his place on that memorable morning flight to William! The large number of floral tributes included two from Khartoum: 'The Khartoum Province' and 'The Polo Club' and one from Mrs Lela Cody and family.
It would subsequently become known that William was not the only local resident to have flown with Cody on that fateful day 7 August 1913. Lieutenant Norman Keyser, 20th Hussars, of Aldermaston Manor, had driven with his friend William to the flying ground and preceded him in a flight with Cody.
_______________________________________
Herbert Harlakenden Gilchrist –  Artist and Author, 1857-1914
Three members of TADS Project Group were clearing part of St Peter's graveyard while looking for a soldier's grave. They were surprised to find what had been an imposing grave, now broken, in a very remote area of the churchyard. The inscription on it was: 'Herbert Harlakenden Gilchrist, Artist and Author, Born 1857, Died 1914 Aged 57'. Nobody had ever heard of him. What was his connection to Tadley?

Herbert's grave in St Peter's Church, Tadley
Early Life
Herbert was born in Chelsea, London in March 1857, the second son of Alexander and Anne (nee Burrows) Gilchrist. The parents were both writers, although not particularly successful. Alex's 'Life of William Etty' (a British painter) was well received by some but not exactly commercial. They knew and were friends with many writers and artists, some well known even today e.g. Thomas Carlyle; Dante Gabriel Rossetti and his sister Christina; Ford Maddox Brown; Samuel Palmer; Alfred Lord Tennyson.
In 1861 Alex died of scarlet fever caught from his daughter. Anne completed and published his 'Life of William Blake', the poet in 1863.
The American Connection
Herbert showed talent as an artist and was accepted as a student at the Royal Academy, but his studies there were ended when in 1876 Anne and her three younger children moved to Philadelphia, USA so that daughter Beatrice could attend Medical School. (At the time women in England were barred from studying medicine). Herbert continued to study painting. While in Philadelphia the family became friends with the American poet Walt Whitman, whom Anne had long admired. After two years in Philadelphia they moved to New York before returning to England in 1879 and settling in Hampstead, London. Anne died in 1885.
Herbert wrote a biography of his mother which was published in 1887. Afterwards he returned to the USA to resume his devotion to Walt Whitman and painted what was acknowledged to be a very good portrait of him. Unfortunately Whitman preferred the portrait by the artist Eakin. Herbert stayed in Philadelphia until the death of Whitman in 1892, then returned to England to resume his career as a fairly successful painter. He seems to have been well known in English literary and painting circles, but he never became a member of the Royal Academy.
The Tadley Connection and the end
From the Hants & Berks Newspaper 14th July 1914:
Suicide of an Artist
An inquest was held on Thursday, in last week (9th), at the Fox and Hounds, Tadley, by Mr John Clarke, Deputy Coroner, on the body of Herbert Harlatkenden Gilchrist, an artist, aged 57 years, who was found in his bath with his throat badly gashed.
Alfred Haines, of 8 John Street, Bedford Row, London, a solicitor, said he had been acquainted with the deceased since childhood, and with the whole family. About eight years ago the deceased had a mental breakdown, and was for a time at Holloway Sanatorium. He perfectly recovered from that, and was well until about 18 months ago he had a bad attack of influenza, when he was more or less mentally affected. He was attended then, and quite recovered. He was in London about March last, and seemed well then. In all these breakdowns he had never shown a suicidal tendency.
George Roller, an artist living at Tadley, said he was well acquainted with the deceased, and for about 12 months he had assisted witness. The deceased dined with him on Sunday night, and he walked across the Common with him afterwards and left him before he reached home. The deceased appeared normal when they parted; he had appeared curious and quiet previously in the evening. – By Mr Haines: He thought the deceased had not been quite right lately. His pictures were this year rejected by the Academy, and although he took it very well he thought it might have preyed on his mind.
Eliza Wells, of Tadley, said that Mr Gilchrist had been in the habit of staying with her when in the neighbourhood. She saw him on Sunday night for a moment. At 7.48 a.m. on Monday morning she called him, and heard him making a noise as if there was something wrong, and she summoned a neighbour. — By Mr. Haines: She noticed on the present occasion that deceased seemed quieter than usual and depressed.
Max West, of Tadley, an artist, said that on Monday morning the previous witness asked him to accompany her as there was something wrong. He rushed round and went up and found Mr. Gilchrist sitting in a bath. He thought at first it was an attack of haemorrhage, but on drawing the blind back he discovered the deceased's throat was cut. He sent for the doctor at once. There was nothing in the deceased's hands. Subsequently the deceased wrote in the book "I am innocent' and signed it Witness waited and assisted the doctor.
Dr. Alfred Alexander, of Tadley, said that on Monday morning he was summoned to see Mr. Gilchrist at 7.55. He arrived at 8.10. Deceased was then alive and suffering from extensive and deep wounds in the neck. The wound was in itself sufficient to cause death. He died of extensive haemorrhage followed by collapse and heart failure. There were other injuries on the body, all of which were consistent with having been self inflicted. He saw two implements in the bath that might have inflicted the wounds; they were an open razor and a fair-sized pair of scissors. George Roller, recalled, said he could emphatically throw no light on any fact that would be likely to cause deceased to write "I am innocent" and he knew of nothing of that nature on deceased's mind.
The Coroner having summed up, a verdict of suicide during temporary insanity was returned by the jury.
Thus Herbert came to be buried in Tadley St Peter's graveyard. Presumably, because it was suicide his grave was located well away from every other as was the custom at that time.
Notes
i) He left £138 15s 6d to Percy his elder brother. (Equivalent to £14,500.00 in 2016).
ii) Eliza Wells house was 'Arundel Cottage', Franklin Avenue, Tadley. It is located to the west of the Holmwood Healthcentre.
iii) His elder sister, Beatrice, also committed suicide. (July 1881).
iv) A very striking portrait of William Michael Rossetti (1829-1919) painted by Herbert in 1895 is at the National Trust property Wightwick Manor, Wolverhampton. To see this painting on-line go to: http://www.nationaltrustcollections.org.uk/object/1288959
_______________________________________
Serjeant Leonard George Rampton – official 'war casualty'?

When the TADS Project Group researched the history of the men named on the Tadley War Memorial, they did not find any record for Leonard on the Commonwealth War Graves Commission (CWGC) website. This was confirmed by the CWGC in answer to a specific enquiry.
From the information the Project Group found, it was quite clear that Leonard Rampton had entered the regular Army as a fit young man in 1914 (?), and had been discharged as being 'no longer physically fit for war service' in December 1915, with the rank of Acting Serjeant. He died of ill health in February 1918, age 32, and it seemed clear that his Army service had destroyed his health.
He had been in the army during part of World War I and, although all his service had been in the United Kingdom, TADS still felt that there was a good case for him to be recorded as an official 'war casualty'.
Therefore TADS submitted a case to the CWGC supported by copies of documents the Project Group had found during its research, including his Medical Discharge Certificate and Death Certificate.
The CWGC staff submitted the case to the National Army Museum whose decision was:
'Despite the insight and conclusions offered by the Medical Board (1915) there is no reference to the condition that killed Corporal Rampton, tuberculosis of the kidney, anywhere within the report,' … 'thus limiting our ability to establish an authoritative link between his military service and his death. As a result, Corporal Rampton does not qualify for commemoration by the CWGC.'
So, although not officially recognised as a 'war casualty', Leonard Rampton is recorded on at least two local war memorials.
Family
Leonard George Rampton was born on 22 February 1886 at Tadley.
His parents were George and Edith Annie Rampton (née Lambert).
He was the eldest son of seven children, one of whom died: Elsie Ellen, Leonard George, Harry Edward, Adelaide Annie, Florence May, Evelyn Nellie and Archie Edwin.
In the 1901 Tadley census, aged 15 years, he was living with his parents in the white cottage in the lane variously known as Rampton's, Back or Old Lane. His occupation was listed as an 'Indoor Servant', possibly at Heath End House, opposite the lane. In the 1911 census, aged 25 years, he was living at Herriard Park, Basingstoke. His occupation was listed as 'Head Groom' and he was lodging with other employees at the Park.
Leonard was unmarried.
Service record
Leonard served as a Corporal and Acting Sergeant (Service number: 337) in the 9th Cyclist Battalion of the Hampshire Regiment.
The Cyclist Battalion was established to facilitate rapid and cheap communication over tracks and difficult terrain in the field of action. It was definitely for keen cyclists only. The Hampshire Battalion carried out training on Salisbury Plain, carrying .303 rifles.
According to the Army Medical Board, it was as a result of exceptional hardship and exposure during troop training that caused Leonard to contract rheumatic fever in November 1914.
Leonard was discharged from the army as being "no longer physically fit for war service" following a number of medical problems including rheumatic fever, appendicitis and finally a valvular disease of the heart. He was discharged from the army on 26 December 1915 having served in locations in the United Kingdom.
On leaving the army he returned to Herriard Park where he remained until his death. At his funeral the eulogy described him as of a steady disposition and highly spoken of by all. Despite his illness he was always cheerful. He had been a respected member of the choir at Herriard for some years.
Died
Leonard died at Hurst Farm, Herriard, Basingstoke on Wednesday 27 February 1918, aged 32.
Commemorated
Leonard is buried at St Peter's Church, Tadley. Although he did not die in army service and he does not have a Commonwealth War Graves Commission obituary, his name appears on both Tadley and Baughurst war memorials.
Decorations
No record of Leonard having received any medals has been found.
Return to the top of the page.
_______________________________________