TADS used to keep a pictorial record of all its significant events. Here are  a few examples from the first decade of the new century:
Publication launch of Florence Davidson's book, May 2008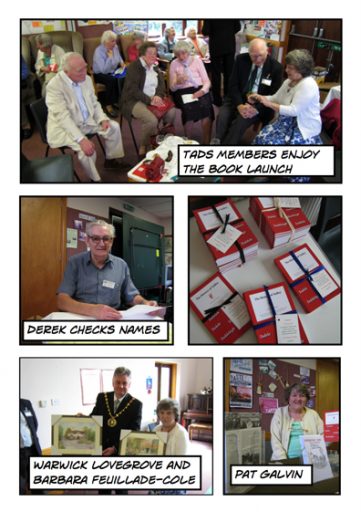 __________________________________
Project group research day, October 2007
The project group collecting material for the forthcoming reprint of Florence davidson's history of Tadley, first published in 1913. The day consisted of trying to photograph the communion plate at St Paul's Church, followed by a visit to St Peter's to takes some photographs of the interior of the the church.
__________________________________
A Barrel Organ Bonanza

Photographs from the highly successful meeting in October 2007: 'A Barrel Organ Bonanza', given by Keith Hilson and Richard Kerridge, local collectors extraordinaire.
__________________________________
Archives day, September 2007
The project group met at the Community Centre in September for a day's research and work on the archives. The morning was spent going through the archives and sorting the material into some form of order. The afternoon was spent (as the photographs show) drinking coffee, eating cakes and researching material for the forthcoming updated edition of Florence Davidson's book on the history of Tadley
__________________________________
Alan and Lorna's wedding

__________________________________
Visit to Burberry's archives 2007
On Tuesday 29 May 29 TADS members Ian, Carol, Derek and Bob together with two non-members, took up the offer by David Quelch, a director of Burberry's Ltd of London, to show a party from TADS around the archives and collections currently housed in the basement of St Albans House, (opposite the Haymarket shop) in London.
David had prepared a short talk on the history of Burberry's and showed us many of the artefacts etc that he has accumulated in the short time he has been involved with this side of the business. We then exchanged various cuttings, etc. which we had accumulated from the Basingstoke Gazette on Burberry's and Major G I Roller of Tadley, a close friend of Thomas Burberry and one of the two illustrators that Burberry's used to draw their advertisements. We identified many more drawings in the archives through Roller's "scrawled" signature.
David had requested that we bring with us the book The Story of the 34th Company (Middlesex) Imperial Yeomanry by William Connor, published in 1902, detailing Sgt-Major Roller and his mare Gaberdine during various operations in the Boer War. Derek had copied the relevant bits for David before hand.
After spending almost two hours with David, Bob asked if we could visit one of the stores. Three of us then walked through Piccadilly Circus and along Regent Street to number 157, where Burberry's have a large store. Needless to say no one purchased anything!!
__________________________________
TADS AGM, December 2006
Photographs from the AGM on 20 December 2006.
__________________________________
TADS outing, September 2006
Photographs from the trip to the Weald and Downland Museum and Tangmere Military Museum.
__________________________________
Project Group presentation, September 2006
Photographs from Heather Lawn's presentation to TADS at the Community centre on her work researching the early history and possible location of Tadley village.
__________________________________
Silchester dig visit, August 2005

Photographs from TADS annual visit to the Silchester dig in August 2005.
__________________________________
TADS outing: New Forest, September 2005

This year's outing was to the New Forest. Bob Bysouth, our leader for the day, lived in the forest for many years and his enthusiasm and knowledge of the places and sights we visited made for a very enjoyable day. We were fortunate with the weather – a warm sunny day. After an early start from Allen's Garage the coach drove down to Lyndhurst. There we had a stop to walk around the town and visit some of the sights, in particular the New Forest Museum and Visitor Centre and the fascinating parish church with its William Morris glass and Lord Leighton fresco. Many of us also took the opportunity to slip into a tea room for some mid-morning refreshment.
Back on the coach we continued our drive south to Lymington, passing through some beautiful countryside, including the village of Burley. We reached Lymington in time for lunch. The town was busy with the traditional Saturday market and we had time to do what we wanted: some of us stayed exploring the town and market while others took a boat trip over to the Isle of Wight.    Late afternoon, we returned to the coach for the drive home back through the forest, all the time listening to Bob's local tit-bits of knowledge and gossip. Back in Tadley we all agreed that once again it had been a very successful TADS outing and thanked Bob for all his hard work organising the day.
__________________________________
Visit to Museum of English Rural Life – 2009
TADS visit  on 17th June 2009 TADS arranged a group visit to the Reading Museum of English Rural Life. Photos supplied by Derek Heath.
Henry and Madge Jackson,the museum founders, were an inspirational couple. During WWII Henry had served with the Royal Marines characteristically volunteering for Special Service, which matched his determined and daring nature. Meanwhile Madge, who was a country girl, joined the Woman's Land Army in the Pest Control Section. In 1948 they were married locally and shortly afterwards moved nearby to the primitive "Old Kiln", a cottage now changed and modernised after much hard work. It can be seen adjacent to the museum grounds, near "Henry's Yard", the site of the original museum. Before that in about 1968 the couple unearthed a horse drawn plough in some woods at Waterlooville, Hampshire and with permission brought it home to use it as a garden ornament and so our story started.
Realising agricultural implements used by earlier generations were being lost and destroyed they visited farm sales and local auctions determined to save these historic artefacts. Other treasured possessions such as waggons, binders and hand tools were donated. From then on Henry and Madge became avid collectors. At this time Henry was Director at nearby Tilhill Tree Nurseries, which suited his life-long passion for trees. In 1953 Henry had planted the first tree on the site. The start of an arboretum, now a special feature of the museum.
The Growth of the Collection
Henry and Madge's friends suggested opening a museum. In 1973 it became the "Old Kiln Agricultural Museum", initially opening on Sundays only. This first venture in "Henry's Yard" utilized the disused farm yard buildings. Their treasured collection soon began to expand and grow reflecting their life stories and many interests, such as Forestry and Market Gardening. Today the museum has over 40,000 artefacts relating to agriculture and rural life which includes buildings. Initially, as many of the precious artefacts were displayed outside more undercover space was needed.
Henry, who had an imaginative talent for scrounging things, acquired an old post war Prefab from his previous employer. It had been used as a bonded warehouse for a tobacco growing experiment. Initially it housed a small shop and some early displays including Chemist's and Game Keeping artefacts. These are now displayed elsewhere in the museum. During the annual winter closure new buildings appeared, built with such things as old doors or a swimming pool cover, these have now been replaced by improved buildings