Join us for  a talk by Alan Turton  about the life of James Aitken (28 September 1752 – 10 March 1777), also known as John the Painter, who was a mercenary who committed acts of sabotage in Royal Navy naval dockyards during the American Revolutionary War in 1776–77.
Upon leaving school at age 14, he tried his hand at a variety of low-paying trades, including painter apprenticeship in 1767, before finding that the world of criminal activity offered him more immediate rewards. He admitted in his testament to being a highwayman, burglar, shoplifter, robber, and (on at least one occasion) a rapist:
"… I made the best of my way through Winchester to Basingstoke, intending to return to London. Going over a down near Basingstoke, I saw a girl watching some sheep, upon whom, with some threats and imprecations, I committed a rape, to my shame it be said."
Fearful that his crimes would soon be detected, Aitken negotiated an indenture in exchange for a voyage to Jamestown, Virginia. His next two years in the colonies were spent in such locales as Philadelphia, Boston, New York City, and Perth Amboy, New Jersey. It was during this period that he became exposed to revolutionary rhetoric, and Aitken claimed that he had been harassed by British troops for being a suspected Whig. At some point after a 1775 return trip to England he developed his scheme of political arson.
Some historians have speculated that Aitken was motivated by a desire to escape his life of insignificance and poverty, and that by striking a blow on behalf of the American revolutionaries, Aitken would be recognised and handsomely rewarded for his role.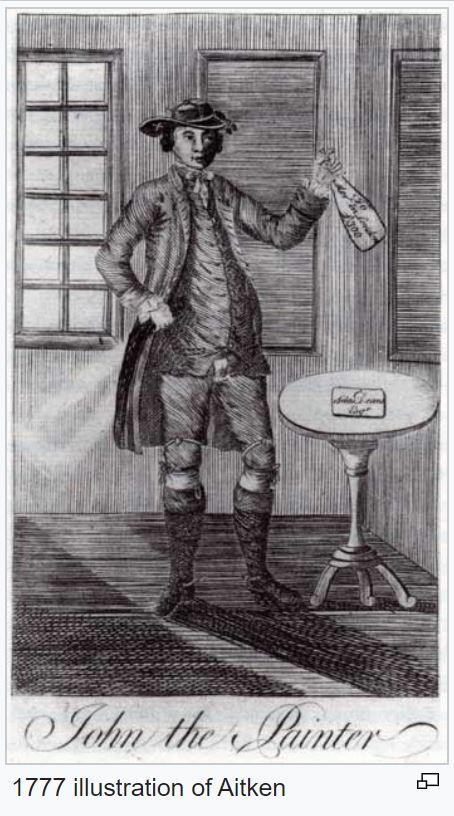 Using his training with mixing chemicals and paint solvents from his trade as a painter, Aitken solicited the help of several others in constructing crude incendiary devices with the intention of burning down the highly flammable buildings in the Royal Dockyards. Over the course of several months Aitken attacked facilities in Portsmouth and Bristol, creating the impression that a band of saboteurs was on the loose in England.
Steve Davidson is inviting you to a scheduled Zoom meeting.
Topic: John the Painter – Arson in His Majesty's Dockyard
Time: Oct 20, 2021 08:00 PM London
Join Zoom Meeting
https://us02web.zoom.us/j/83875460143?pwd=bTkyQnJWZHJwY3BUVDMraEx0ZUZhdz09
Meeting ID: 838 7546 0143
Passcode: 332668