TADS publications are available from our Online Shop  and are also on sale at
"Profile Print and Copy",  50 Bishopswood Road, Tadley RG26 4HD
 Tuesday to Friday, 9.00 am to 5.30 pm(cash and cheques only.)
They can also be purchased from TADS (Tel) 0118 970 1578; (Email) tadshistory@gmail.com.
In Grateful Remembrance – Tadley War Memorial
In 2014, as part of the national commemorations to mark the start of World War I, Tadley and District History Society held an exhibition in the Community Centre of the lives of the 31 men. A second exhibition was held in St Paul's hall the following year, to commemorate those who died in World War II. This book is as a result of the success of these two exhibitions. In Grateful Remembrance – Tadley War memorial tells the story behind the names. Not just the personal history of the thirty-seven men, but also that of the lives of those people they left at home. Tadley and District History Society are enormously grateful for the financial assistance given by Tadley Town Council which has enabled the publication of this book.
£10.00; £12.50 inc post and package  –  ONLINE SHOP
Tadley Tracks, Tadley Facts
Explore a little of Tadley and its environs and you will soon be extolling the joy and interest of the countryside which surrounds it, and wanting to know more about the quiet corners, full of secrets, changing splendours and peacefulness. The book contains nine walks, of between three and twelve kilometres in length, all with detailed maps, clear route directions and descriptions highlighting the historical background of the sites along the route.
£8.00; £10.50 inc post and package –  ONLINE SHOP
Around Tadley – People and Places
This superb collection of over 300 photographs gives an unforgettable impression of people and places in Tadley from late-Victorian times up to the 1990s. Drawn from many sources the selection shows the dramatic changes that have taken place in the area over the last 100 years. This book will provide many memories and provide hours of enjoyable reading and reminiscing. Around Tadley – people and places is a companion to Tadley and District History Society's previous publication Around Tadley – fact and fable.
£9.00; £11.50 inc post and package –  ONLINE SHOP
Street Names and their Origins by Alan Albery & Marie-Claude Lelliott
A guide to the origins of street names in Tadley, Baughurst and the Pambers by Marie Lelliott and Alan Albery. In this edition, we have included the bordering villages of Baughurst, Pamber End, Pamber Heath and Pamber Green as part of a wider semi-rural community.  We hope that this publication will bring some meaningful explanations to out community and make us aware of the continuity between past and present.
£2.00; £3.00 inc post and package  –  ONLINE SHOP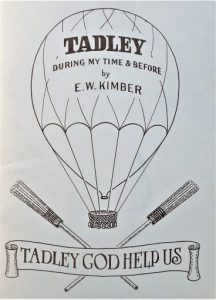 Tadley During My Time and Before by E.W. Kimber
In 1983 Ernest Kimber put pen to paper and recorded his memories of Tadley parish and its people over a period of 70 years. He provided a facinating overview of the development of the village with topics such as ; Old Tadley, Tall Stories, Leisure, Social Life, Personalities, Road Names, Charity Lands, Transport, Life before Supermarkets & Changing Times. Not forgetting, of course, Bricks Besoms, Baskets and Brandy!
£2.00; £3.00 inc post and package  –  ONLINE SHOP
This volume contains a small selection from the records of the Tadley and District Society, accumulated since the Society was founded in November 1984.
The selection includes personal memories of members and invited speakers, important aspects of the history of Tadley and adjacent areas, and summary reports of some of the talks. It is intended to show the wide variety of subjects presented to the Society and, it is hoped, to stimulate sufficient interest in the reader to encourage him or her to join the Society at the evening meetings held in St Paul's Church Hall, Tadley, usually on the third Wednesday of each month.
Free to Download – CLICK HERE
Founded nearly ten years ago, in November 1984, TADS (Tadley and District Society) local history group continues to publicise the rich past of Tadley and the surrounding area. The first 'A Taste of TADS' magazine was published in June 1990. Three and a half years later, it was followed by 'A Taste of TADS 2'. Whereas the earlier edition was a selection of summaries from some of TADS regular monthly meetings, this edition is comprised of specially commissioned articles.
A Taste of TADS 2, published in November 1993, was added to the website in November 2014. We are always eager to hear from anyone who has a local tale to tell; who knows, it might be suitable for inclusion in 'A Taste of TADS 3'.
Free to download  –  CLICK HERE
_______________________________
Out of Print Books and Pamphlets (Members Only)
Around Tadley – Fact and Fable
Are you curious to know more about Tadley and its surrounding area – for example, where the phrase 'Tadley Treacle Mines' originated? Over two years research by Tadley and District History Society (TADS) has resulted in this book. It provides a valuable source of information across a broad spectrum of subjects and will appeal to a wide range of readers. Packed with interesting and unusual facts and fables and over fifty photographs and line drawings it provides a lasting record of people and events, houses and public buildings, shops and businesses that have contributed to the history of the area. This book will add to the knowledge, appreciation and enjoyment of this distinctive part of north Hampshire.
Some Account of the village of Tadley in Hampshire and of the Independent Church there.
A reprint of Daniel Benham's 1862 history of Tadley and the Independent Church