On Christmas morning 1903 , about five minutes to eleven, just before the divine service, a churchwarden at Silchester Church, found to his cost, that Church bells can pose an unexpected threat to life. The Hants. and Berks. Gazette described the incident as follows;
A serious accident occurred to Mr. James Goddard, who was taken up to the roof by the rope of the tenor bell (which was set up for ringing) and then dropped down amongst the seats.
Mr. Herbert and Mr. Lush, with others, carried Mr. Goddard to tho sitting room the farmhouse nearby.  He was afterwards conveyed home, where the 'locum tenens'  in charge of Dr. Langley's practice , was quickly summonsed. It was found that he had no bones broken,  but  was badly bruised and had a bad cut on his head. 
Being an elderly man it was a  very bad shake-up for him.  For days it was feared that serious  internal complications might result. It was curious how the accident could have happened,as  Mr. Goddard has had upward of fifty years experience at the Church, and had been Clerk for over 30 years. 
Such incidents occur surprisingly often , even in modern times.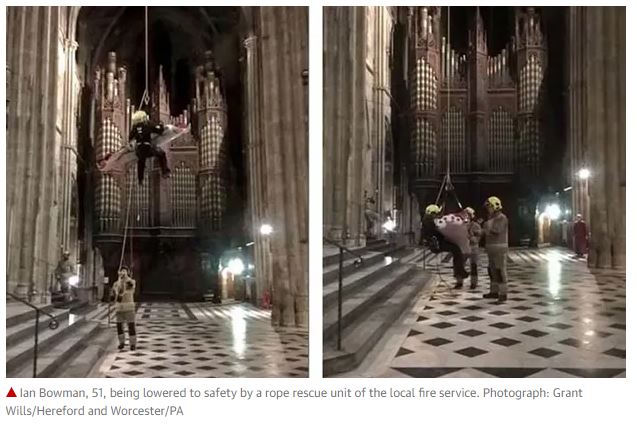 In 2017 a bell-ringer was hoisted in the air before crashing to the ground after catching his foot in a bell rope.
He  suffered the freak accident, that left him with a fractured bone in his back, when he visited Worcester Cathedral in the company of other campanologists planning to ring for an hour-long service. The cathedral's bell tower contains 16 bells, including a bourdon bell, which together weigh in at 16 tonnes – the fifth heaviest ring in the world.
"We were raising the tenor bell, which takes two people. "There were 20 of us there ringing, and the rope caught my heel and it  pulled me up in the air and I came crashing down on the floor  with a big bang." 
He was eventually winched down 80 ft from the bell tower to the church floor on a spinal board by firefighters who had to open several trapdoors and use a rope system during the Evensong service. He was taken to Worcestershire Royal where he was treated for a cut to his head and back pain.
Pictures of the rescue were posted on Twitter by the fire crew, which included a specialist rope team, who Bowman thanked as well as the paramedics who attended to him.
Less than a year later  on the 7th of November 2018, Steven Tomsett broke both ankles in the accident at St Helen's Church in Abingdon, Oxfordshire, in January when he was also wrenched off his feet while bell ringing.
The accident was caused by a broken wooden stay, which is used to keep the bell upright. "I was pulled quickly up into the air and just remember looking down and seeing everybody's faces looking up at me," Mr Tomsett said. "It was terrifying and was one of those moments when you think you are going to die." "I thought, is this really happening to me?"
The trainee engineer, who was 17 at the time of the accident, damaged his right leg and injured his lower back. "At about 20ft up I let go and came crashing down and then heard somebody shouting for me to let go," the teenager said. "The pain I felt was just indescribable. I was in absolute agony. It's fair to say I was using language that shouldn't probably be used in church."
---
Become a full TADS Member/ Renew your annual membership
Annual subscription to the society is ₤20.00 
Also see our Facebook Page and Facebook Group