Following publication of  'Around Tadley – people and places', TADS received several letters either adding or correcting information in the book. Amongst these letters was one from Jean Pocock (neé Lowe) which we publish here.
My grandparents, John & Emily Lowe, moved with their family in 1904 from Stadhampton, Oxfordshire, having bought the grocery store at the corner of Broadhalfpenny Lane and Silchester Road from a relative Mr Urban Rose.
My father, Yorke, the youngest member of the family, in his turn after leaving school at Caversham, also worked in the shop. In August 1916 he married Effie Newey who was the Commanding Officer at Tadley Salvation Army Corps. On marriage to a non-officer she had to resign. She went to live in her home town Birkenhead and Yorke resumed war service as a despatch rider in France. After his demob in 1919 they set-up home at The Firs, Newtown (now Franklin Avenue) where I was born. My father resumed work in the shop which became known as Lowes Corner.
In 1925 grandfather retired – the contents of the shop and excess house furniture were sold at auction by Messrs Gribble Booth & Shepherd and I have a somewhat worn 'Catalogue of Sale'. After living at The Firs for a brief period my parents and I moved next door to The Rowans, and it was to this address that my grandfather moved on vacating Lowes Corner, which was purchased by three ladies – MrsFarris, Miss West and Miss Pollack (or Pollock).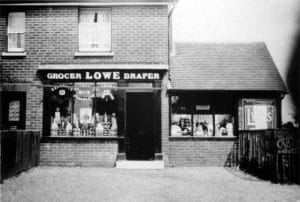 We took up residence at the shop opposite 'The Fox & Hounds', previously owned by Mrs Blake and the two businesses were amalgamated. I attended Tadley School and well remember Mr and Mrs Miller, Miss Creeth and Miss Saunders; later going to Fairfields for a short while and then the High School in Basingstoke.
In 1945 my parents retired and sold the business to Mr Whatmore, who at that time was a Salvation Army Insurance Agent. He livedin Winchester Road, Basingstoke and covered the Tadley area. We moved to Reading as I was then employed by the Great Western Railway.
My interest in Tadley was maintained through my occasional visits to Annie and Len West who lived in Swains Road, sadly both now deceased. Annie worked for my parents and looked after me during my early years. Lowes Corner became a hotel where I once stayed and I later called again for a meal after it was re-named The Treacle Mine. I was amazed to see over the bar a photo of my grandfather, father, and two ladies who at sometime in the early 1920s had been officers at the Salvation Army Tadley Corps. One was Nellie Mayes who eventually married Bert Bowman and lived alongside The Green. The other, Millie Bichard, came from Guernsey and was interned there during the war when she returned to nurse her sick mother.

I am a little mystified regarding the bottom picture on page 47 of Around Tadley – people and places (see below). If the two ladies are the 1898 officers they must have returned for a special event, possibly the opening of the Hall. In those days officers were moved on to other Corps at regular intervals of 6, 12, or 18 months. My mother became an officer in 1908 and was regularly moved around the Scottish Division prior to Tadley.
As previously mentioned the book revived many memories. There were no public telephones and we were often asked to phone Dr Beale, or people would ask my father to take them to the surgery in Aldermaston. We were also asked to pass on messages from distant relatives. No electricity either, and I think it was 1926/27 when heavy snow and blizzard caused an oil tanker to be ditched at Sherborne. My father collected as many oilcans as would fit into his van, and somehow managed to reach the tanker and return with the essential paraffin for lighting and cooking. It was a full day's job.
In the early 1930s he fitted out a van as a mobile shop, and three times a week visited his customers who were hop-picking around Alton at Coldrey, Bentley Street, Hill Farm, Issington and Binsted Wick. The pickers finished work around 5 pm, and it was well after mid-night when he returned home. I recall when the Yanks arrived – some were intrigued by the village shop and would call to see if they could buy something to send home, offering a handful of coins saying 'take what you want' – my mother gave many a lesson on English coinage. When 'something was going on' folk from outside the perimeter boundary wanting to come to shop, were given a paper by the duty sentry which we had to rubber stamp to prove where they had been. Norman Longmate's book,
The GIs – The Americans in Britain 1942-1945, makes reference to Jean and her family: 'A young woman ( Jean Pocock) who helped her parents to run the village shop at Mulfords Hill, within the perimeter of the great American camp at Aldermaston, near Reading, went to the door to see off a group of GIs who had come for supper. The family had asked their guests to return for Christmas dinner the next day, and the GIs had promised: 'You'll be hearing from us soon.' The family learned what they meant when awakened at midnight by the sound of music coming over the tannoy. It was 'Christians Awake', followed by 'Silent Night' sung as a solo by one of their recent guests, a unique and public Christmas greeting.
Last edited on Friday 15 April 2022