Family
Frederick Broadhurst was born on 16 December 1905 at Mount Pleasant, Tadley. He was known by his family as 'Fred'.
His parents were William and Clara Broadhurst (née Dyer). William was a 'General Labourer'.
He was the youngest of twelve children, two of whom died in childhood: Hannah Sarah, Archibold James, Alice, Rose, Percival William, Harry, Arthur, Florence, William, Mabel, Elsie Matilda and Frederick.
His father was born in Tadley and spent much of his youth with his maternal grandfather, Thomas Saunders. His mother was born in Kingsclere. They married at St Mary's Church, Kingclere, in June 1882. The Tadley Census for 1891 places them in Back Lane (now Winston Avenue) but by 1901 William, Clara and seven children are living 'nr. The Common'. By 1911 Fred, aged 5 years, and the family are recorded at Mount Pleasant which could be one and the same location, near Newtown Common. 
St Peter's Church, Tadley, where Frederick married Olive Absolom on 29 January 1927.
Fred married Olive Absolom on 29 January 1927 at Tadley parish church. This was probably St Peter's. Olive was aged 19 and the daughter of George Absolom, the licensed victualler of the 'Fox and Hounds' Mount Pleasant. Fred's occupation at that time was a 'Bricklayer'.
Fred had four daughters, the first of whom died at birth: Alma, Jane, Ann and Pamela.
It is not known why they moved away from Tadley but at the time of Fred's death his family were living at 15 Park Lane, Tilehurst.
His funeral was held at the Congregational Church, Tilehurst on Wednesday 20 November 1940.
Service record
Fred enlisted on 5 June 1940, aged 34. He served as an aircraftman 2nd class in the 953 Balloon Squadron of the Royal Air Force (service number 1154792).
The 900 series of squadron numbers was allocated to Barrage Balloon units of the Auxiliary Air Force which were responsible for the anti-aircraft balloon defences of the United Kingdom. At the outbreak of war there were about 42 squadrons operating barrage balloons, the number peaking at about 102 in 1944.
On Tuesday 12 November 1940 Fred was billeted with the 907 Balloon Squadron which was stationed on Woodberry Down, Hackney, London. He was one of 18 men killed during an air raid that night in their billet at 26 Highbury Grove, Aberdeen Lane. Enemy air raids were on a reduced scale during the day but, from 11.00 pm, they intensified. A number of properties were damaged in Islington (Elfort Road, Highbury Hill, Hornsey Rise Gardens, Petherton Road, St Paul's Road and Aberdeen Lane) with the loss of 25 lives. Nearby, Sloane Square underground station booking office and a train were hit with the loss of 21 lives. A total of 111 Londoners were killed that day.
Ruins of 26 Highbury Grove, Islington. [Islington Local History Centre]
Died
Fred was killed during an air raid on Tuesday 12 November 1940, aged 34.
Commemorated
Fred is buried in the churchyard (grave 768) of St Michael's Church, Tilehurst.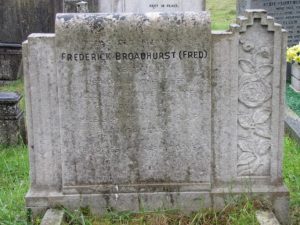 Fred's grave in St Michael's Church cemetery, Tilehurst.
The inscription on his headstone reads, 'In treasured memory of Frederick Broadhurst, a very dear husband and father, killed on active service on Nov 12th 1940 while serving in the RAF, aged 34 years. Memories of happy days'.
He is also remembered on Tadley War Memorial.
Decorations
There are no 'honours and awards' listed on Fred's RAF records. This may be because he was only in uniform for five and a half months. It is possible Fred would have been entitled to the War Medal 1939-45 as one didn't have to serve overseas to receive it.