Family
Walter Frederick Carter was born on 7 February 1923 at Henley Road, Dunsden Green, Oxfordshire. He was known by his family as 'Fred'.
His parents were Frederick Oliver and Rose Evelyn Carter (née Haines). Frederick was a 'Farm labourer'.
Fred was the eldest of their three children Walter Frederick, John Francis 'Jack' and Horace.
King Street, Mortimer
His father died in 1932 when Fred was 9 years of age. At that time the family were living at Mortimer where his father was a farmer. As the cottage they occupied was a 'tied cottage', Rose and her boys were forced to move. Rose found a job in Bradfield and the two older boys remained with her. The youngest, Horace, went to live with his grandmother in Lewknor, Oxfordshire.
Rose eventually met and married Frederick Merriweather in 1936 and moved to Fairlawn Road, Tadley, taking only Jack with her. Frederick Merriweather had three children from his previous marriage. Fred joined Horace at their grandmother's, from where he completed his schooling. Aged 14, Fred moved to Tadley to join his mother, who was by then living at Rosemary Cottage, West Street (since demolished).
Rose had two children with her second husband: Brian (who used the name Carter) and Margaret.
Fred's first job was as a shop assistant at Forest Stores, Basingstoke;  later he became a bricklayer's labourer.
Fred was unmarried.
Service record
Fred enlisted on 28 August 1941, aged 18.
Sergeant Air Gunner Frederick Carter.
He served as a sergeant air gunner in the 75 Squadron, Royal Air Force Volunteer Reserve (service number 1543208).
75 Squadron comprised mainly New Zealand airmen and was also referred to as 75 Squadron, Royal New Zealand Air Force. The squadron was engaged in bombing operations against Germany from 1940 to VE day. It flew more sorties than any other allied heavy bomber squadron, suffering the second most casualties and dropping the second largest weight of bombs. Fred was a mid upper gunner on Short Stirling and later Avro Lancaster bombers flying from RAF Mepal airfield, near Ely, Cambridgeshire. RAF Mepal was an 'expansion' airfield, constructed between July 1942 and June 1943. 
No 5 squadron with Frederick Carter marked in the back row.
Avro Lancaster type III, (serial ND752 and code AA-O) with Fred on board, took off from Mepal at 23:30 hours on Thursday 20 July 1944 on a bombing raid to the Fischer Tropsch oil refinery/aviation fuel producer in Homburg, Germany. Of the seven crew on board, two were from New Zealand, one from Canada, one from Australia and three were British.
Twenty-six aircraft took off on the raid and nineteen were successful in bombing the target. Two good explosions were seen and smoke came up from the target area. Heavy anti-aircraft fire was moderate, but fighters were very active, eight combats taking place. Fred's Lancaster was attacked by enemy aircraft at 01:40 hours and brought down close to Udenbout (Noord-Brabant), a mile north of Tilburg, Netherlands. 
Five of the crew died (including Fred); two survived, were captured and became prisoners of war. Initially reported as missing, it was not until six months later, in February 1945, that Fred's family were finally informed that he had been killed in action. During the raid the Squadron suffered its highest loss of aircraft and men of the war, seven aircraft failing to return.
Died
Fred died on Friday 21 July 1944, aged 21.
Commemorated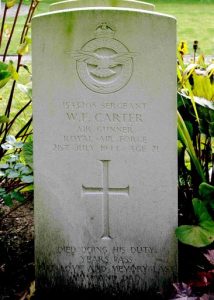 Frederick's grave in Tilburg (Gilzerbaan) General Cemetery. [War Graves Photographic Project]
He is buried in Tilburg (Gilzerbaan) General Cemetery, (plot B. Row 2. Grave 59) Noord-Brabant, Netherlands.
The inscription on his headstone reads, 'Died doing his duty. Years pass but love and memory last. Mum and Dad'.
He is remembered on Tadley War Memorial.
Decorations
Fred was awarded four medals: the 1939-45 Star, the Air Crew Europe Star (Aircrew), France and Germany Clasp and the War Medal 1939-45. These would have been sent to his family.