Family
Frederick George Appleton was born on 26 December 1894 at Heath End, Tadley.
His parents were Thomas Henry and Priscilla Appleton (née Webb). Thomas was a 'General Labourer'.
He was the third of four children: Stephen, Annie, Frederick George and Percy.
Frederick's mother Priscilla died in August 1899, when he was four years old, following the birth of his brother Percy. It is believed that after her death, Frederick and two of his siblings were looked after by their uncle and aunt, James and Louisa Webb, at Bishopswood Farm until his father remarried (to Ellen Guerin, née Bambury) in 1903.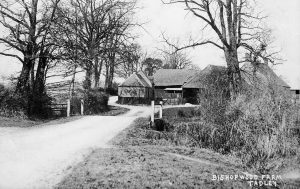 Bishopswood Farm, Tadley where Frederick and two of his sisters lived between 1899-1903.
In the 1911 Tadley Census, aged 15 years, Frederick and his brother Percy are living in Heath End, Tadley with Thomas Henry and Ellen. His occupation was listed as 'Labourer in Woods'.
Frederick was unmarried.
Service record
Frederick enlisted prior to July 1915. He was a driver with the Army Service Corps (ASC) (service number T4/093180). The letter and number prefix to his service number is useful in identifying his role in the Army Service Corps. The 'T' suggests he served in a horsed transport company, and the number '4' that he was recruited into Kitchener's 4th (New) Army.

An Army Service Corps horse transport limber in France 1918. [www.greatwarphotos.com]
The Army Service Corps (sometimes referred to as Ally Sloper's Cavalry, after a fictional comic strip character of the day) were the unsung heroes of the British Army in World War I – soldiers cannot fight without food, equipment or ammunition. During the war, the vast majority of this matériel, for supplying the army on many fronts, was distributed via Britain. Using horses and motor vehicles, railways and waterways, the corps performed huge logistical operations which comprised one of the great organisational feats that helped win the war.

Army Service Corps cap badge.
At its peak, the corps numbered an incredible 10,547 officers and 315,334 men. In addition, there were tens of thousands of labourers, carriers and store-men from many nations, including India, Egypt and China, all under orders of the corps.
Died
It is believed that Frederick was gassed while on service on the Western Front. He died at Inhurst Farm on Thursday 6 March 1919 at the age of 24. His death certificate records the cause of death as 'Acute Bronchitis Influenza Meningoencephalitis'.

Inhurst Farm where Frederick died in March 1919. [Pam Brophy]
Commemorated
He was buried in the churchyard at St Stephen's, Baughurst on 10 March 1919.

Frederick's grave at St Stephen's Church, Baughurst.
The inscription on his headstone reads: 'In Loving Memory of Frederick George, the beloved son of T and E Appleton, who died March 6th 1919, aged 23 years. At rest. His cheery ways, his smiling face are pleasant to recall, he had a kindly word for each, and died beloved by all.' His age is incorrectly recorded on his headstone; he was actually 24 when he died.
He is also remembered on both Tadley and Baughurst War Memorials.
Besides Frederick, amongst those remembered on Tadley War Memorial is John Saunders who also served in the Army Service Corps.
Decorations
Frederick was awarded the Victory medal, the British War medal and 1914-15 Star. These would have been sent to his family.