As a local history society we are interested in local folklore that includes oral traditions such as tales, proverbs and even jokes passed down through the generations.  Family stories have been an interesting source of  local history information over the years, When we hear a new one we  always do our best to follow it up. (for example "Tadley God help us" and the "1944 Air-Crash" ).
So when our Facebook group had a post asking if anybody else had family  stories about "Tarzan swimming in Tadley"  we were interested.  For those of you too young to remember, Johnny Weissmuller will mainly be remembered, in the post-World War II era, for his film portrayal as "Tarzan", the hero of Edgar Rice Burroughs' jungle classics.
 Johnny Weissmuller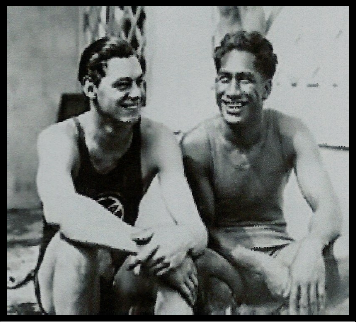 Weissmuller was born to German parents, Peter Weissmuller and Elizabeth Kersch on 6 May 1904, in a small village (Freidorf) in present day Romania, which was then part of the  Austrian-Hungarian Empire.  The family immigrated to Pennsylvania in America where he was baptized Johann Peter.
At nine years old,  Weissmüller contracted polio. At the suggestion of his doctor, he took up swimming to help battle the disease By 1910 the family  had moved to Chicago where he learned to swim near a dangerous  steel and concrete breakwater.
He went on to win three gold medals for swimming in the 1924 Olympics in Paris and  two more in the 1928 Amsterdam Olympics. He was the first man in the world to break a minute in the 100 meter freestyle. He won an unprecedented 52 national titles while setting 67 world records by the time he retired at age 25. In 1950 he was hailed  "the greatest swimmer of the half century" by the Associated Press.
Once his swim career ended, his  job as a BVD swimwear representative quickly led to a screen test for the role of "Tarzan,"  Weissmuller won the role among 150 competitors, and gained the lead in the movie, "Tarzan the Ape man".  Bernard Hyman asked for Johnny's name, and then said "too long, we'll have to shorten it". When the others exclaimed that Weissmuller was the world's best swimmer and an internationally famous Olympic champion, he capitulated: "All right then, we'll just lengthen the marquee. And, put lots of swimming in the film!" Filming began on October 31,1931, and ended 8 weeks later. Weissmuller went on to make 19 Tarzan films.
Weissmuller was also accomplished amateur golfer, he played in two official PGA Tour tournaments. It is believed that while playing golf in Cuba in 1958, Weissmuller's golf cart was surrounded by rebel soldiers. Wanting to save his life he got out of the cart and attempted the trademark Tarzan yell. The soldiers then recognised him and escorted him back to his hotel.
Too old for WWII military service, Weissmuller did use his celebrity to raise millions for the war effort on the home front. The Navy also used him to teach recruits how to swim out of flame filled waters. By the mid-1970s his health began to decline, and he suffered a series of strokes. He died from a heart condition in 1984.
Weissmuller was one of the very few non-heads of state ever to be afforded a 21-gun salute, at his memorial service at Good Shepherd church in Beverly Hills. Arranged by Senator Kennedy and President Reagan, it was a singular honour for a man who was a true American icon. Concurrent memorial masses were also held at St Michael's in Chicago (where he had been an altar boy), St. Patrick's Cathedral in NYC, and the Vatican in Rome
So… did Tarzan  ever visit Tadley?
There are at least two decoy ponds near Tadley, one currently inside the AWE fence and one between Pamber Heath and AWE. While Weissmuller did not sign up during the war, he did teach airmen to cope with flame filled waters would have been relevant to both aircrews at Tadley Airfield and the subsequent  AWRE.
There are newspapers with stories of Weissmuller in the UK in May 14th 1950 .  Another describes him racing a clown in a local swimming pool in Arbroath '. While neither have been independently verified, it seems likely that he did come to the UK for publicity reasons.
The bottom line is, that so far, "Tarzan swimming in a decoy pond local to Tadley"  still remains folklore, but it seems that it is strange that such a story would have only been recalled by a single family, given Weissmuller's fame at the time. Get in touch if your family knows more.
A recent  "Tarzan" film did have scenes filmed locally.
"The Legend of Tarzan", released in 2016 included a scene where Jane is sitting in a cedar tree, that was filmed at Highclere Castle. It stared Alexander Skarsgård as Tarzan, as well as Samuel L. Jackson in a supporting role. The story follows John Clayton (Tarzan), who after moving to London, is convinced by George Washington Williams to return to his former home in the jungles of Africa, to investigate claims of slavery.
Please contact us if  your family has any local folklore.