On 6 June 1997 a plaque, dedicated to the people of Tadley, hosts to the USAAF during WW II, was erected at Blake's Lane, on the south wall of the Toucan Travel building.
This plaque was initiated and designed by Gordon Timmins, MOD police dog handler and local historian. It was designed and unveiled by American G. Paul Gerbracht in association with Gordon Timmins. Paul was attached to the newly formed 458th Service squadron, 318th Service Group and arrived in Tadley prior to D-Day.
Throughout the afternoon and evening of the 3rd of June 1944 the 458th Squadron were responsible for painting the 'invasion stripes' on all the aircraft awaiting D-Day at Aldermaston.
On the 60th anniversary of D-Day in June 2004 a second plaque was erected. This, on the site of the Aldermaston Airfield, Station 467, now AWE, was dedicated to the memory of those members of the Airborne Forces who died during WW II.
The Plaque was originally placed in Blake's Lane on the side of the building that contains the Post Office on Mulfords Hill. The Plaque had degraded over time and in 2020 TADS renovated the plaque and at 11am on Saturday  3 October 2020 the  USAAF plaque  was unveiled in its new Tadley location on the wall of the council offices in the Turbary building, Franklin Avenue. Due to the COVID crisis only a small amount of people attended the event including  Carol Stevens, Richard Brown, Gordon Timmins and two Councillors.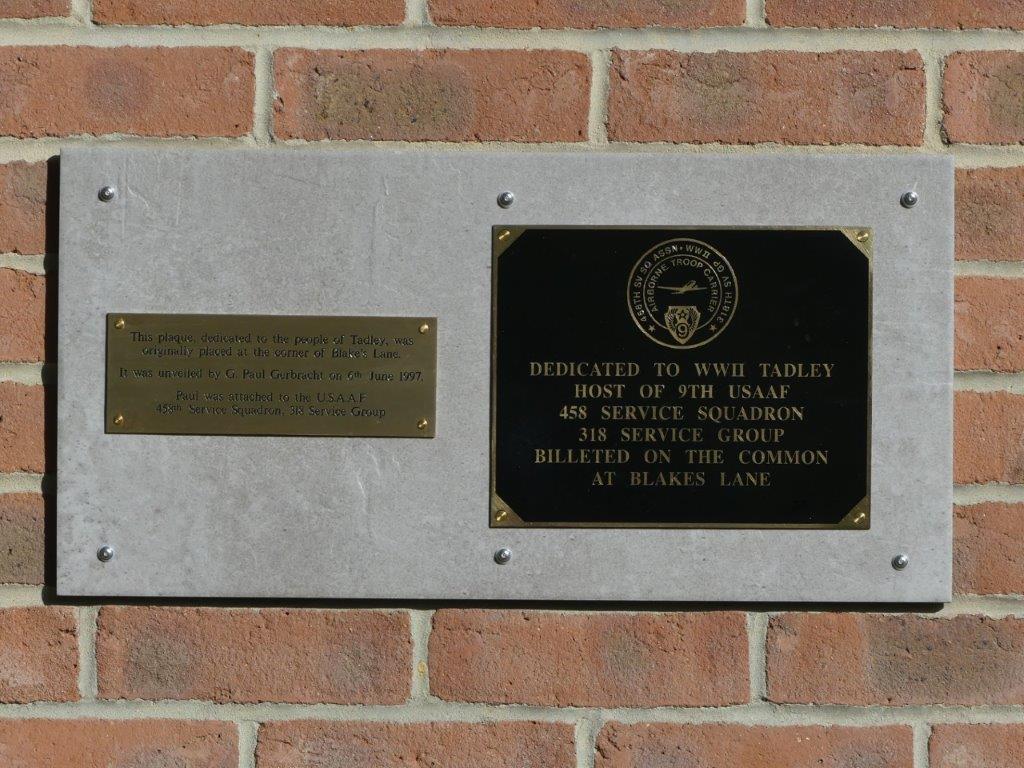 USAAF Plaque in its new home in Franklin Avenue, Tadley